New Jersey Point Reduction - NJ Point Removal
Upon completion of the defensive driving course, our company will notify the NJ Motor Vehicle Commission electronically to remove points from your NJ driving record. You will also receive an e-mailed copy of your completion certificate for your records or insurance agent. Once the NJ MVC receives notification of your completion, the points will be removed from your driving record shortly thereafter.
Driving is a privilege, not a right. If you break New Jersey traffic laws, your driving privileges could be suspended or revoked resulting in fines and even imprisonment. The seriousness of your violations - and resulting penalties - are tracked by NJ MVC using a point system.
If you are convicted of a moving violation, the New Jersey MVC will penalize you by adding points to your driving record. You will only get points on your record for moving violations - points are not assessed for parking and other violations.

How do points affect you?
1. If you get six or more points within three years on your current driving record, you will be assessed a surcharge.
2. If you get 12 or more points on your current driving record, your license will be suspended. You will receive a notice of scheduled suspension by mail.
3. Getting points on your license may also increase your insurance rates.

Register for the New Jersey defensive driving course by clicking here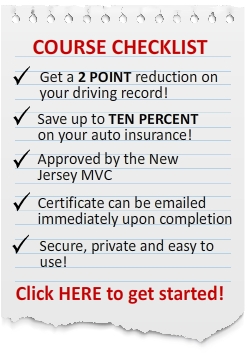 ---
About 247NewJerseyDefensiveDriving...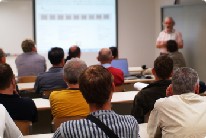 As a company, our goal has always been to create a learning environment that is interesting, engaging and educational. To do this, we have combined interactive flash movies with easy to follow text that stimulates learning.

We feel your New Jersey Defensive Driving experience should always be a positive one. Our company will work with you at all times to help you get a New Jersey point reduction or help you get the New Jersey Insurance Reduction you seek. If you have any suggestions on how to improve your experience while on our site, please take a moment to e-mail us.