New Jersey Defensive Driving Course Details
New Jersey Point Reduction:
So you got a ticket, now what? Remove the points from your New Jersey driving record by taking our NJ MVC approved defensive driving course! Successful completion of this course will reduce your driving record point total by 2 points, and save you hundreds, if not thousands on raised insurance premiums. You are eligible to take a New Jersey defensive driving course for a point reduction once every 5 years.
Upon completion of the course, our company will notify the NJ Motor Vehicle Commission electronically and you will receive an e-mailed copy of your completion certificate for your records or insurance agent. Once the NJ MVC receives notification of your completion, the points will be removed from your driving record shortly thereafter. Note: You must possess a New Jersey drivers license for the point reduction to apply

Insurance Reduction:
Per New Jersey State rule, N.J.S.A. 17:33B-45.1 NJ insurance companies are required to offer insurance premium discounts for drivers who successfully completed an approved Driver Safety course. This applies to all insurance companies writing private passenger policies in New Jersey, and earns the participant a minimum of five percent discount to the base rate for Bodily Injury Liability, Property Damage Liability, Personal Injury Protection and Collision coverages on their auto insurance.
The insurance reduction is available for three years or until a driver accumulates four (4) motor vehicle points or loses his/her license.
Discounts apply to private passenger automobiles, with only one discount per vehicle. If the policy insures two or more vehicles, the discount applies to the vehicle principally operated by the person who completes the course.
With some insurance companies this discount is called an accident prevention discount and comes with certain other requirements so you would need to adhere to. To find out how much the discount would affect your rates or cause them to be reduced by you would need to speak to your insurance agent.

Register for the New Jersey defensive driving course by clicking here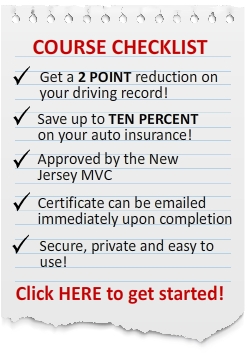 ---
About 247NewJerseyDefensiveDriving...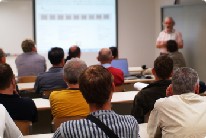 As a company, our goal has always been to create a learning environment that is interesting, engaging and educational. To do this, we have combined interactive flash movies with easy to follow text that stimulates learning.

We feel your New Jersey Defensive Driving experience should always be a positive one. Our company will work with you at all times to help you get a New Jersey point reduction or help you get the New Jersey Insurance Reduction you seek. If you have any suggestions on how to improve your experience while on our site, please take a moment to e-mail us.