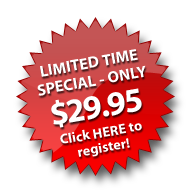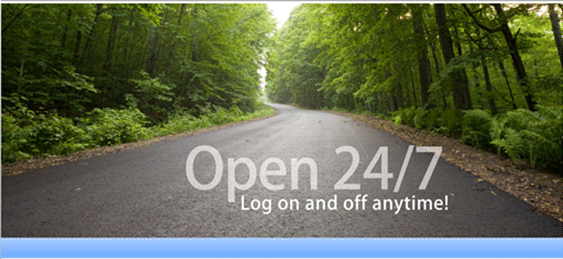 Register For Your Online Defensive Driving Course With 247NewJerseyDefensiveDriving.com
Welcome to 247NewJerseyDefensiveDriving.com, your online source for New Jersey defensive driving. Our course was designed to help you complete your New Jersey defensive driving course quickly and easily, without the hassle of going to a classroom. Whether you are taking our course for a New Jersey point reduction on for a reduction on your insurance, rest assured that 247NewJerseyDefensiveDriving.com is here to help.

Participation in our New Jersey Defensive Driving course is easy. Visit the "Register Here" link above and go to the course registration. Once course registration is complete you will be directed to the course reading. This defensive driving course is easy to read and easy to use.
---

Point Removal: Reduce your NJ driving record points

Take our New Jersey Defensive Driving class and remove 2 points from your NJ driving record. Once you're done with our defensive driving course, our staff will notify the NJ Motor Vehicle Commission and the point reduction (removal) will be applied!

---

Reduce your Auto Insurance by up to 10%

Save money on your auto insurance! The State of New Jersey requires insurance premium discounts for drivers who successfully completed an approved New Jersey Defensive Driving course.

---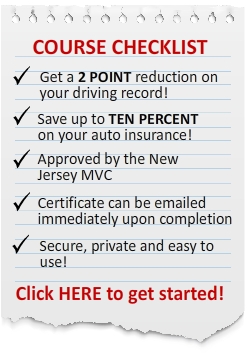 ---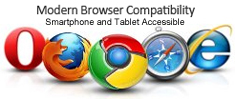 About 247NewJerseyDefensiveDriving...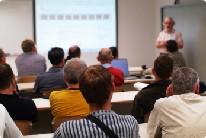 As a company, our goal has always been to create a learning environment that is interesting, engaging and educational. To do this, we have combined interactive movies with easy to follow text that stimulates learning.

We feel your New Jersey Defensive Driving experience should always be a positive one. Our company will work with you at all times to help you get a New Jersey point reduction or help you get the New Jersey Insurance Reduction you seek. If you have any suggestions on how to improve your experience while on our site, please take a moment to e-mail us.