New Jersey Defensive Driving FAQ / Help
Question:
I finished the course, where is my certificate of completion?
Answer:
Your certificate is emailed to you automatically upon completion either immediately (if you selected the rush processing option) or within 72 hours if you selected regular delivery. In some cases, this email ends up in your junk or spam folder or is blocked by a firewall.
The fastest way to recover your NJ defensive driving certificate of completion is to log back into your account and click on the link that says status/update. There is a .pdf copy of it there.
Question:
Where do I sign up for this Defensive Driving / Point Reduction course?
Answer:
Each page of 247NewJerseyDefensiveDriving.com features a link that says "Register here." Click this and you will be directed to the defensive driving course registration page. Registration takes just minutes and is completed in just a few steps. All you need to do is fill in the appropriate fields, and you're enrolled. If you prefer to register with a live person over the phone, you may also call us at 877-848-5754 at anytime.
Question:
How does the point reduction work?
Answer:
Upon completion of our course, our staff will notify the New Jersey Motor Vehicle Commission. Once the MVC records the completion, 2 points are reduced from your driving record. Note: you may take this course for a point reduction once every five years.
Question:
Do I get a 5% reduction or a 10% reduction on my insurance?
Answer:
The first time you take this NJ defensive driving class and show your certificate to your insurance agent, you will receive a 5% reduction on your auto insurance. This reduction is good for 3 years. If you take the course second time once 3 years have passed and you have not received any violations within this time, you will receive an additional 5% reduction on your insurance for a total of 10%.
Question:
How much does it cost to enroll in your program?
Answer:
The price to participate in our New Jersey defensive driving program is just $29.95 and includes free e-mail delivery of your completion certification. Other courses charge up to $9.95 just to e-mail the certificate to you. We do this for free!
Question:
I need my certificate fast! Can you rush it to me?
Answer: Yes, for a nominal fee, the certificate can be sent to you via e-mail the very day you graduate from the course. Simply select this same day processing option during enrollment.
Question:
Is this New Jersey Defensive Driving Course Approved by the New Jersey MVC?
Answer:
Yes. Our course is approved by the New Jersey Motor Vehicle commission and is valid for a 2 point reduction on your driving record and up to a 10% reduction on your auto insurance.
Question:
What is your refund policy?
Answer:
247NewJerseyDefensiveDriving.com makes every effort to ensure the satisfaction of each student. Under certain conditions a student may be entitled to a refund, especially if the course of instruction interrupted by or prohibited by forces of nature outside of our control, including natural disasters. While our company will make every effort to restore service as soon as possible, this may not be possible under certain conditions.
If you are unhappy with the course for any reason, please contact our office and let us know and we will help you. If you have already received a certificate, we're sorry but we cannot issue a refund.
Course Participation
Question:
Do I need any special programs installed on my computer to participate?
Answer:
No, but we do recommend that you have Adobe Flash player installed to view the course animations.
Question:
Can I use someone else's computer or Internet access?
Answer:
All you need in order to participate is a computer with internet access. Any computer that is hooked up to the web will allow you to work on our course, whether it is at home, work, or the library. You can even participate using different computers at various times if needed.
Question:
How long will it take to complete this defensive driving course?
Answer:
It's really up to you. Generally, it should take you no longer to finish our course than it would if you took a traditional in-class New Jersey defensive driving program, which is 6 hours. You may work at your own pace and log on and off at anytime.
Question:
Must I complete the program all at once?
Answer:
If you wanted to, you can sit through the program from beginning to end, but that is not required. You can complete the course in sections, which is made easier by the fact we've broken it up into several sections to give you the flexibility to decide when to stop. The program keeps a record of your progress, allowing you to easily return to where you left off. You can log on and off as often as you need, 365 days a year.
Question:
I've already enrolled in the program and need to log back on
Answer:
If you have enrolled already, you should have your username and password. Just enter them by visiting the "Current Student Login" link at the top right hand side of any page on our site whenever you need to return to the program. If you forgot or lost your username or password, there is a password recovery link on the login page, or feel free to call us at 877-848-5754.

Register for the NJ defensive driving course by clicking here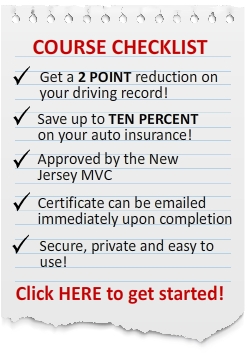 ---
About 247NewJerseyDefensiveDriving...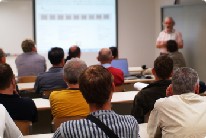 As a company, our goal has always been to create a learning environment that is interesting, engaging and educational. To do this, we have combined interactive flash movies with easy to follow text that stimulates learning.

We feel your New Jersey Defensive Driving experience should always be a positive one. Our company will work with you at all times to help you get a New Jersey point reduction or help you get the New Jersey Insurance Reduction you seek. If you have any suggestions on how to improve your experience while on our site, please take a moment to e-mail us.